Copyright 2005-2010
ALL forms of duplication expressly PROHIBITED!!
~~ Hand Crafted ~~
Copper Clad Steel

Dowsing / Divining "L" Rods
(With Instructions!)
Check my Other Items Link for EVEN MORE DOWSING ITEMS!!
Each pair is skillfully crafted by hand, checking for proper alignment and balance each setp of the way! Upon completion, each pair is manually checked for smooth performance ...... just to be CERTAIN that you will enjoy a quality experience that can't be beat! No mass production here, just LOTS of personal attention to those LITTLE DETAILS!!


My hand crafted dowsing rods have long been the personal choice of MANY HAPPY Ebay dowsers ..... AND ..... they are are even being used by a well known Ghost Research Center for site screenings! Don't be fooled by others who try to imitate these rods ...... our feedback speaks for itself! Get the REAL DEAL RIGHT HERE, and enjoy the quality of my personal hand crafting for yourself!! Heck ........ "even the competition owns a pair of MY dowsing rods!" ..... and that should speak for itself! Check my positive feedback (including those at the bottom of this page) to see what others have had to say!!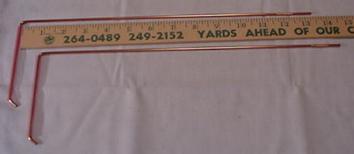 My Dowsing Rods are designed to be small enough for portable use, yet LARGE enough for Adult sized hands. You will be pleased with the FULL SIZE SWIVEL HANDLES, Sleek Looks, Silky Feel, and the SUPER sensitivity of these dowsing rods in your hands too!!
Here's a custom made pair of dowsing / divining rods ...... ready to take you on loads of fun and adventure!! Used and sworn by for years ........... dowsing rods have been used for both practical and adventuresome applications! Who hasn't heard of the dowser who was called in to find water when the well driller couldn't??!! Professional Utility Workers, Plumbers and Electricians alike have used dowsing rods over the years ..... in order to help them locate underground Water / Sewer / and Other Utility lines and conduits. Some use them as a metal detector! Some search for lost or missing items! Others even search for ghosts! Amaze yourself, and your friends ...... by locating underground water lines!! It is said that the great majority of people have the ability to use dowsing rods skillfully, with just a bit of guided practice. There's even a two page guide to help you in getting started! Try your hand at this ancient form of metal detecting ...... for fun ...... pleasure ...... and practicality!
You'll be glad you did!!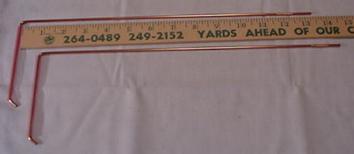 These 1/8" diameter / Bright Copper Clad Steel divining rods are fitted with resilient clear plastic sleeves (selected because it won't become brittle, chip, or crack), to allow for free and unimpeded movement of the rods when in actual use. And unlike rigid tube sleeves, you won't need to worry about getting a small ding or kink that can cause your rods to bind permanently ...... rendering them useless!! PLUS ...... ALL my dowsing rods have beveled and polished ends for safety, thus eliminating the balance issues caused by those "add on" protective tips!! This simple feature, easily allows My Optional Witness Chamber Kits to be installed on the rod handles or tips too!! You will appreciate the ease at which they swing ...... allowing for a more "sensitive" feel!!! Best of all, you get the "full strength" of STEEL construction, PLUS the GREAT looks, increased conductivity, and rust resistance provided by their bright copper coating!! A real combination that is hard to beat!!
Email with any questions you may have!
Don't save Pennies ... Only To Get Less
Simply the BEST .... My ORIGINAL Design Dowsing Rods have sold on Ebay for years now! It was bound to happen ........ and now copies of my personal dowsing rod designs have started popping up! One seller even suggested that steel based rods are not good for dowsing?! Don't fall for such rubbish! Unfounded comments such as this simply display the sellers lack of knowledge about dowsing! In the end, you get what you pay for ..... so don't be penny wise and pound foolish! My rods are top quality, customer endorsed, long proven performers! Don't just buy ANY pair of dowsing rods in an effort to save a few pennies .... INSIST on MY original design dowsing rods and MY customer proven instruction system to help you in getting started the right way!! Top quality custom designs and great instructions .... now that is where the true value lies!
Some Examples of My Dowsing Rod Feedback At Ebay


Praise : Great craftsmanship & service!!! Easy & fun to use-worked 1st time!
Great seller
(Auction #5548297944)

Praise : Better than ever expected, real tools not fad items
AAAAAAAAAAAAAAAAAA++++++++++
(Auction #5516718011)

Praise : Awesome dowsing rods!! They have worked EVERY TIME!! A+A+A+A+
(Auction #2995307174)

Praise : ***Very Pleased! Excellent dowsing rods! Fast delivery!
Would deal with again!!
(Auction #2982824196)

Praise : Totally Unbeleivable I was able to find my dogs lost grave in minutes Thanks
(Auction #2969744557)

Praise : Very quick shipping and cool product.. it really works A+++++++++ seller
(Auction #2966636999)

Praise : very nice rods, nicely finished on the ends, arrived promptly, would buy again
(Auction #2968422343)

Praise : Another perfect transaction. Great rods!
Thanks very much. AAAAAAAA++++++++
(Auction #2966636983)

Praise : I am a repeat customer. Great seller.
Always a pleasure. Thanks very much.!
(Auction #2966867851)

Praise : Excellent Quality Rods, Fast shipping, excellent Ebayer AA++++
(Auction #2962885296)

Really nice rods, well made REALLY! Great price,
fast ship, unbeatable. Thanks!
(Auction #2943540135)

Praise : As always, the BEST dowsing rods on eBay! Wouldnt buy anywhere else! Own 4 pair!
(Auction #2915596584)

Praise : WOW! these really work! i was sceptical too.
its really amazing! great product!
(Auction #2913186990)

Praise : Awesome rods! Work VERY well! LOVE THEM! THANKS! A++++

Praise : A++++ love my purchase--had results immediately-great doing business with-THANKS

Praise : very good product, work as described, Super Fast Shipment

Praise : U made it so very easy.the rods are beautiful

Praise : fastest tranaction ever--great product

Praise : Super smooth transaction - quick shipment - very nice product + instructions A++

Praise : Excellant service. Well crafted product. Will tell others

Praise : very nice rods,top quality. Fast shipping,great communications--A+++++

Praise : nice rods! pleased with item & seller! kicks butt!

Praise : The rods are high quality and include smooth handles and clips to join them

Praise : Great seller. THESE RODS REALLY WORK AND ARE GREAT FUN TO BOOT!!! Buy a few!!

~ A Lovely Testimonial Offered By One Of My Customers ~

I just wanted to thank you for this special purchase I could not leave enough positive feedback I have been looking at info on the dowsing rods and was a bit skeptical I want to use them in my paranormal research but its a paranormal tool in itself I couldn't wait to test them out for unmarked graves at a very old an overgrown cemetary that I do volunter work at so I was going out to test it on the water main when I realized we had buried my two beloved dogs in the back yard many years ago and I knew the genaral area where they where at so I walked over to that area 10ft by 10ft area and walked around and remembered playing here in the back yard with Sparky and Bandit and to my surprise the rods crossed in not 1 but 2 locations about 2ft from each other centralizing right where my dogs are buried this is a wonderful tool with minimal concentration and minutes from opening the box and reading the enclosed directions I was able to use these beutiful rods with ease thank you so much Thank you Brian & Jessica PS if you would like to use this letter for future sales I would be delighted in helping you sell this great tool