Copyright 2005-2010 Our OWN Proprietary Design
~ ALL Rights Reserved ~
ALL FORMS Of Duplication Expressly PROHIBITED


~~ A Perfect Receiver Antenna ~~
Our Included TIP SHEET helps you GET THE MOST from your antenna!!
Ideal For Travel Use

Get the performance of a Long Wire or Zepp Antenna ........
In just a FRACTION of the space!!

My ORIGINAL Design Is A Proven Performer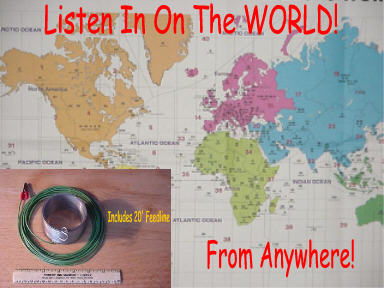 Long Used By SWL's All Around The World
(And It's Personally Hand Crafted by an EXTRA CLASS Amateur Operator!)
As ALWAYS, we ship every antenna via SPEEDY PRIORITY MAIL SERVICE
.... so you're SURE get your antenna FAST with no hidden extra cost!
Connects right to the whip antenna
on ANY BRAND radio
Use it Indoors ... or ... take it OUTSIDE
for even better performance!!

The helical antenna itself has roughly 65 feet of wire All coiled up!!
A full 1/4 wave at 3.6 mhz and 1/2 wave at 7.2 mhz!!!

Much more receiving surface area than those wire / wind up style antennas .....
yet it takes up Less Room!!




Hand made in the USA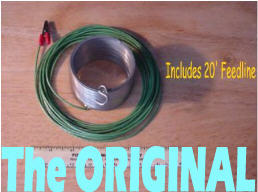 Read Our Customer Feedback Below ..... To See How Others Felt About Their Antenna Purchase
Here's just one example of my positive Ebay feedback for this antenna:
"Praise : Blows away my windup ant! MUCH less fading, A+ reception!
Got2 try it 2 believe!" / (Auction #3051235266)


While another Ebayer wrote back to repeat his continued sasisfaction:
"I have been greatly impressed by this antenna. I thought, as did my family, that it was just a "Slinky" with a wire attached. It has improved my reception 10 fold.
Thank you for a wonderful product."



Check my other auctions link for a great (130') Limited Space Helical Dipole fed with Low Loss Twin Lead Feed Line!

Short Wave listeners both at home, and on the go, have used external antennas to improve their radio performance for years. However, when it came to the right combination of performance and convenience .....
MANY have found MY tried and true Slinky(R) Style antenna to be the best thing going!!
It presents a
HUGE receiving surface area in a very small space requirement
(roughly 65' of wire all coiled up!)
, and is ideal for antenna restricted or portable operating environments!!
Simply hang it with the included "S" hook, and let it extend down to the floor .... then connect the feed line to your radio's whip antenna ....... that's it!! And if you want horizontal polarization, simply stretch it out along the floor, or thread a string through the middle and extend it between two convenient tie points. FINALLY, a portable antenna that can match whatever polarization needs you may have!!


If you can't or don't want to install a full size antenna outdoors ....
it's hard to beat this as a great limited space alternative!!
It comes complete with a specially our specially matched 20' of high quality 18 gauge stranded "UL Listed" insulated feeder wire, so you have the flexibility of mounting indoors or out on the porch for even better reception!

Now you can greatly improve your radio's performance, with just a simple connection to your existing whip antenna!
No special adapters or tools are required to attach this antenna ....
simply hang it in a convenient spot, and tuck the included feedline under the carpet or along your baseboard!!
(It's SAFETY Green colored, so you won't trip on it!)
Connect the included high quality Mini-Clip to your radio's whip antenna or external antenna screw ..... and you're in business
..... it's that simple!!

(Shade of Wire & Color of Mini-Clip May Vary)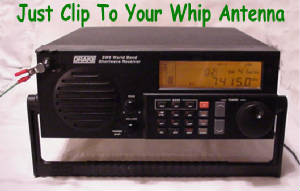 Radio for display ONLY / NOT included!
For even BETTER reception, you can even hang the coil part outside on your porch, deck, or balcony .... and slip the feed line under the door .... right to a convenient listening spot for your radio.
Now you have the flexibility of putting a half wave antenna up indoors / or outdoors ........
in a VERY tiny space!
We even include a comprehensive TWO PAGE tip sheet .... giving you
several mounting options
for both indoor and outdoor applications
.... including a few tricks that you wouldn't normally think of
.... such as how to work around a rubber duck antenna ..... for even better reception!!

Wondering how MY antenna's work??
SWL's have posted LOADS of info on this simple but effective antenna on the various internet news groups.
Read for yourself the unbiased opinions offered by thousands of happy SWL's all over the world!!
You'll find this is a very popular restricted space / and portable antenna! And our exclusive tip sheet provides you with some little known shortcuts that make it even MORE versatile!!
Best of all, setup and tear down typically takes less than a minute!!


If you're looking for
improved performance
from your portable radio .... but still want to keep a LOW PROFILE ...
then
THIS is the antenna
you have been looking for!


After all,
lets face it, just how would you place 65' of random wire inside a typical room,
without having a tangled mess that takes FOREVER to straighten out while you setup and tear down!!??
Our 20' matching feed line lets you pick the least visible spot for the FULL SIZE 65' coil antenna ....
while allowing you to sit in your favorite operating position ..... without ever having to give up your comfort!!


Compact ... Efficient ... Fast & Easy Setup!! ....
A combination that's REALLY HARD TO BEAT!!
Just a few examples of the feedback left by some of my happy Ebay SWL antenna customers!!!
Praise : Great E-Bay'er - +++ Straight shooter.
Product works as described AMAZING
(Auction #5743808150)

Praise : wonderful seller! love the antenna, prompt delivery,
would do business againAAA+
(Auction #5743807366)

Praise : good antenna...BIG improvement....thanks...A+++
(Auction #5723424121)

Great antenna. Made my National NC-2-40D come alive with sound. Fast delivery.
(Auction #5722446316)

Praise : super fast shipping, excellent antenna,
improved reception tremendously, A++++
(Auction #5717139084)

Praise : HELICAL ANTENNA WORKS/ LOOKS/ INSTALLS/ FITS/ TRAVELS!
As Advertised!
(Auction #5717138556)

Praise : Nifty, durable,quick-connect antenna receives AM,FM,SSB Great! Awesome seller!
(Auction #5705849788)

Praise : Great antenna, it works on my 2010
(Auction #5708098592)

Praise : Antenna works great. Shipped quickly. Slick transaction.
(Auction #5703694348)

Praise : Great transaction...A+ eBayer...Product definitely improves reception quality.
(Auction #3071973981)

Praise : Wow-what agreat antenna!-very fast shipping-friendly e-mail-a++++++++++++
(Acution #3074311717)

Praise : Antenna works great - helpful tips on usage - Fast shipping - Thanks
(Auction #3069989269)


Praise : shortwave helical antenna works great.AAAA++++
(Auction #3069424727)

Praise : great antenna, super fast ship, plus loads of friendly, helpful advice. great!!!
(Auction #3067411416)

Praise : Very nice transaction, great product, excellent price, quick shipping! A++
(Auction #3062808927)

Praise : Ingenuious antenna, promptly shipped.
(Auction #3055817597)

Praise : Great SWL or QRP portable antenna! Don't leave home without one. A+++++
(Auction #3055054006)

Praise : Blows away my windup ant! MUCH less fading, A+ reception!
Got2 try it 2 believe!
(Auction #3051232266)

Praise : prompt shipping. Antenna makes significant improvement in signal. Easy to use.
(Auction #3045515116)

Praise : WOW! Antenna is of finest quality! Lightning fast shipping! EBAYS BEST!
(Auction #3050792021)

Praise : excellent transaction - antenna performs as described by seller
(Auction #3048076171)

Praise : Great Reception, fast shipping
(Auction #3046723582)

Praise : REAL NICE!! THANK YOU!!!!
(Auction #3049464804)



~ Some testimonials from my happy antenna customers ~
"Thought I would let you know what I am receiving with the
ALLBAND HELICAL SWL ANTENNA
so far. This is using a Hallicrafters S-120 radio made in 1960-63. I have the antenna outside suspended from a metal balcony:

COUNTRY / MOUNTAIN DAYLIGHT TIME / FREQUENCY
HAVANA, CUBA 7 - 11 PM 10.1/54-78
CHINA RCI 7 - 7:57 PM & 9 - 10 PM 10.1/50-65
GERMANY DEUTSCHE WELLE 11 - 12 MIDNIGHT 10.1/61
NETHERLANDS 7 - 8 PM & 10 - 11 PM 10.1/76
AUSTRALIA 10 - 11 PM 10.1/56
NEW ZEALAND 10 PM - 2 AM 10.1/56, AFTER 1AM /81
BANGKOK, THAILAND 9 - 10 PM 6.0/42-50, OR 6.2/25
TAIWAN RTI 8 - 9 PM 10.1/62
BBC WORLD SERVICE ENGLAND 9 - 11 PM BAND 4 12.0/45
SOUTH KOREA 8 - 9 PM 10.1/56


I am sure hearing lots of neat stuff.
We had a huge solar flare a week or so ago, but these stations are coming in very clearly, a few blocks away from the downtown core of Calgary with tall buildings, and other interferences.
I am getting alot of enjoyment listening to the radio, using your nifty antenna invention.
Thanks again. Regards,"

S.L. / Auction #5705849788


~~~~~~~~~~~~~~~~~~~~~~~~~~~~~~~~~~~~~~~~~~~~~~~~~~~~~~~~~~~~~~~



"
I thought you might like to get feedback on your antenna.
The day after I received it, I hung it from a curtain rod in front of a large window. That afternoon I received a Panasonic RF-2900 I also won on eBay. I wanted to see if anything worked on the radio since it was sold for parts or repair. As I was testing the various controls, it seemed like they were functioning but there was no audio. Then I looked over to where I had hung your antenna a few hours earlier, and did the obvious thing. I attached your antenna to the remains of the radio's antenna, all 6 inches of it. I was assuming the antenna that was bent and broken no longer was functional.
"Clip," and the radio came to life!
It seemed like a Frankenstein movie - "Its alive, its alive!" Guess I being silly, but it went from nothing to everything.
I was hoping but didn't know the antenna would be that effective.
The weird aspect about this is first I hang the antenna. Then, a few hours later I receive the radio, each purchased with no thought of the other in mind. Your antenna is not very complex in design, but
its simplicity yielding such great performance is what makes it so impressive to me.
Thank you for giving me a great solution for my "dead receiver"
!"

A.P. " / Auction # 5704134589