Copyright 2005-2010
ALL forms of duplication expressly PROHIBITED!!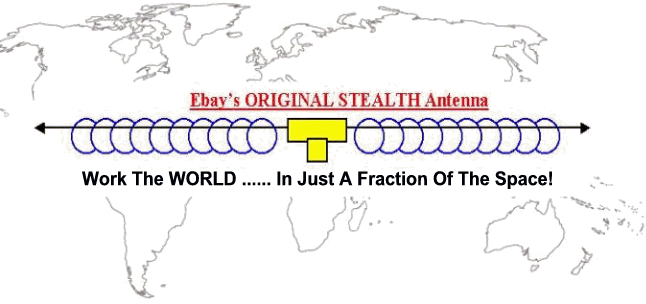 ~~ A Super Antenna For Limited Space / Portable Use ~~
Used By Short-Wave Listener's, CB'ers, & Ham's Alike
Hand Crafted By an EXTRA CLASS Amateur Operator
~ TRAINED in Electronics ~

Same GREAT antenna as my Balanced Line STEALTH (Click on the "View Sellers Other Items" link above), but with the convenience of a High Efficiency / Teflon -- Silver + Gold Plated SO239 Connector!!
~~ Check My Other Items For A Great SWL Receive Only Vertical Travel Antenna ~~
~~ A Handy BNC To Binding Post Adapter To Connect ANY Wire Antenna ~~
~~ Plus ... A SUPER 2 Meter HT Stinger That Will INCREASE Your Signal Strength ~~

~ Hand Crafted In The USA ~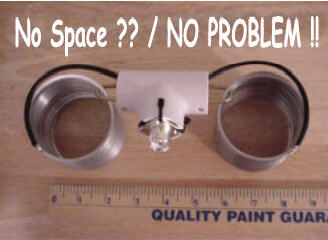 ~ Shipping Insur. & Del. Conf. Included ~


From QRP up to 100W on Xmit

10M thru 80M in as little as 15'- 20' of space!*
It's a Real FULL SIZED Helical Dipole (approx. +/- 130') all coiled up!!!


Simple permanent or portable mounting!
Indoors ~OR~ Outdoors




Amateur Radio Operators / Shortwave Listeners / and CB'ers alike, will all enjoy the convenience of this handy antenna! It is easily deployed anywhere you have two convenient tie points, and stretching our antenna along that cord! Run it as a straight dipole / an "L" / Inverted "V" (with a small loop of rope) / Sloper / or even "any way it fits!!" Extend the coil lengths for your primary band of interest ..... and your ready to go! No trimming of the antenna is required ..... simply stretch or relax the length of the coils to make your adjustment!!

Mount it Inside, Outside, .... or even out of sight in your attic. Or, when operating portable, you can quickly set it up at your fishing/hunting camp or hotel room! You can even extend the coils around a corner to fit your available space! Enjoy the benefits of an adjustable electrically resonant half wavelength antenna ...... while taking up only a fraction of the normally required space!!


Our CUSTOM MADE rust free 1/8" Brass "Swivel-SAFE" mounts connect the coils to the center body (fully supporting the pull and weight of your antenna, and allowing the electrical connections to float stress free)!! And you won't have to worry about rain running down into the coax connector either ....... it's covered from the top ..... while allowing air circulation to prevent any moisture buildup that can be caused from temperature changes!!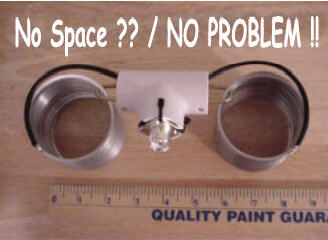 We use Top Commercial Quality (Mil Spec #MS3367) / UV Resistant Ties, DESIGNED by the manufacturer for outdoor use! to hold our Silver/Gold Plated SO239 in place. They help keep the weight down, and allow for simple repairs if ever needed. While we've never had one fail, we'll replace them FREE of charge for one year, no questions asked, should YOU ever have a need!!


Those who travel, will appreciate the our light weight, yet sturdy construction! Preventive maintenance is virtually eliminated, with just four very secure and easily viewed solder connections (which need no attention) making the complete circuit. And should your curiosity get the best of you, it's very simple to double check each and every electrical connection WITHOUT tools or disassembly!!



* The use of an antenna tuner for transmitting is recommended for multi band use.
Actual efficiency on 80M may be reduced when compared to higher bands.
For everyone's safety, locate your antenna as far as possible from power lines, humans or pets!
Auction is for antenna only, no feed line included.
Read below what a few of my Ebay customers have said about their antenna purchases!!

Auction Numbers are included .... so feel free to VERIFY these comments for yourself ....
Right here on Ebay!!!


Praise : A+ Deal, Antenna work's as discribed,
excelant comprimise antenna solution.
(Auction #5742233340)

Praise : This is a magnificent antenna. Very clever & easy to mount.
Happy holidays!
(Auction #5734124334)

Praise : well built antenna very low profile and the best part,,,
IT WORKS AS ADVERTISED!
(Auction #5718080092)

Praise : What a neat little antennae. Wish I'd thought of that! Quick shipping too.
(Auction #5712190887)

Praise : MORE THAN A SELLER, A FRIEND AND INVENTOR
(Auction #5708713811)

Great deal for a very good antenna. I am happy.
(Auction #5703982548)

Praise : terrific product! seller an asset to ebay in everyway.
(Auction #3065833937)

Praise : Excellant communication,well made product and reasonable price.Thanks again!
(Auction #3063927866)

Praise : fast delivery ex.product,highly reccomened.AAAAAAA+++++
will buy fromn again
(Auction #3059886672)

Praise : item arrived exactly as described, no surprises,quick shipping,
a great deal! A+
(Auction #3057407928)

Praise : Excellent comm. Extremely professional. Unique seller w/great products. AAA+++
(Auction #3044941850)

Praise : Very Fast Shipping! Excellent Antenna!! Thanks!!!
(Auction #3053313915)

Praise : WOW! Antenna is of finest quality! Lightning fast shipping!
EBAYS BEST!
(Auction #3050792021)

Praise : Nice antenna design, looking forward to trying it QRP from a mountain top!
(Auction #3021073710)

Praise : Quick ship....good comms, ant works well AAA++++
(Auction #3019832120)

Praise : Exactly as advertised. Very pleased. Great deal!
(Auction #3020547823)

Praise : Great Item. Works Like a Charm. And Very Portable and Adaptable to Frequency.
(Auction #3020547953)

Praise : Excellent Antenna, Great eBayer, A pleasure to deal with,
Highly recommended, AA
(Auction #3013122552)

Praise : Excellent to do business with, quality of antenna is fantastic, works great. A++
(Auction #3011133181)

Praise : Fast Service, very professional and good instructions included. GREAT EBAYer !!
(Auction #3007267118)

Praise : Quality product, fast ship. As good as it gets.
(Auction #1946338675)

Praise : Compact , quality antenna. prefect portable antenna
for my QRP rig.
(Auction #1393407137)

Praise : It was just as promised and I am very happy very fast.
(Auction #1947632911)

Praise : Extremely helpful seller. Fast shipping. All-around great person. A+++++
(Auction #1947633083)

Praise : great service; highly recommended; fast delivery; product as described
(Auction #1944085155)

Praise : AAAAAA****I WISH THAT ALL SELLORS WERE THIS PROFESSIONAL****GREAT TRANSACTION!!*
(Auction #1942213162)

Praise : Got it, Looks too easy.
You've got an excellent product!!!! AAA+++
(Auction #1944485269)

Praise : great person to do business with Rate him at the top A++A+AA+A+A+A+AA+A+A+A+
(Auction #802859737)

Praise : Fast ship, very nicely constructed piece. Scanning 80m with ant in hallway now!!
(Auction #1394259207)

Praise : Excellent Antenna, Came with instructions, fast shipping A++++!!!
(Auction #1392518804)

Praise : Not just a seller, he takes time to answer all your questions! A++++++++++++++++
(Auction #1390207819)

Praise : Very helpful and honest. Great e-deal. Highly recommend. A+++++
(Auction #1390737932)

Praise : ++++AAAA.exell.product and fine gent to do buss. with.I highly recomend him.
(Auction #1368190101)

Praise : Great antenna. Just as descxribed, works great, and FAST delivery. Many Thanks!
(Auction #1376344523)

Praise : well built antenna! thanks :)
(Auction #1379319882)