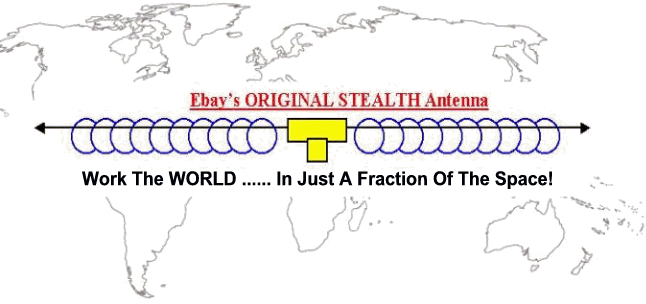 Copyright 2005-2010 / ALL Rights Reserved
ALL forms of duplication expressly PROHIBITED!!



THIS ITEM CURRENTLY OUT OF STOCK


A Helical Dipole
With Balanced Twin Lead Feed Line For Greater Efficiency!!
(Want a PL-259 on the end?? Ask us for the details!!)


It works like a Full Size Doublet / G5RV .........
but needs just a FRACTION OF THE SPACE!!!

?? Durability - Performance - Value - Cust. Service ??
~~ Read some of our customer feedback below ~~
For their HONEST + UNBIASED comments !!
~~ Check My Other Items For A Great SWL Receive Only Vertical Travel Antenna ~~
~~ A Handy BNC To Binding Post Adapter To Connect ANY Wire Antenna ~~
~~ Plus ... A SUPER 2 Meter HT Stinger That Will INCREASE Your Signal Strength ~~
!!! Quite Simply ... It's THE BEST !!!
~~ A Super Antenna For Limited Space / Portable Use ~~
Used By Short-Wave Listener's, CB'ers, & Ham's Alike
Hand Crafted By an EXTRA CLASS Amateur Operator
~ TRAINED in Electronics ~


~ Get The LOW LOSS Advantage ~
~ ~ That Our Balanced Feed Line Has To Offer ~ ~
Our LOW PROFILE / Stranded Wire Twin Lead provides you with
High Efficiency / Super Travel Flexibility / and the Ultimate in Stealth!!


The antenna books will tell you, that For MULTI BAND USE a center fed Dipole should be fed with paralell feed line for BEST EFFICIENCY! Feedline losses actually compound any SWR mismatch losses present during multi band use!! While some feel most comfortable with Coax, it actually turns out to be among the WORST feed lines you could choose for multi band dipole operation!! Maintain that balance that a dipole already has by design, and feed it with an efficient balanced parallel feed line instead of lossy UnBalanced Coax!! You'll net more signal in and out, without having to do a single thing!! Lower losses .... and maintained system balance!! It simply makes perfect sense!!




As Per The Cable Manufacturers Own Specs ....
average feed line losses are AT LEAST 57% LOWER than a comparable length of Coax!!
A HUGE difference!!



Remember that a loss of 3db means you just LOST HALF your signal!!!


~ Individually Hand Crafted In The USA ~





~ Shipping Insur. & Del. Conf. Included ~

~ ALL Bands On Receive ~
From QRP up to 100W on Xmit
10M thru 80M in as little as 15' - 20' of space!*
(It's A Real FULL SIZE Helical Dipole (approx. +/- 130') All Coiled Up,
with a balanced feed line to minimize losses!!!)
Simple permanent or portable mounting!
Indoors ~OR~ Outdoors

Amateur Radio Operators / Shortwave Listeners / and CB'ers alike, will all enjoy the convenience of this handy antenna! It is easily deployed anywhere you have two convenient tie points! Our LOW LOSS Twin Lead coils up quickly and neatly for portable or QRP use, while keeping a LOW PROFILE that is easily hidden from your XYL / Neighbors / and other Visitors who may not appreciate the visual aspects of some antenna setups!! And all the while ...... you'll have a HIGHLY EFFICIENT / LOW VISIBILITY Antenna System, providing for maximum signal strength!! Enjoy the benefits of an adjustable electrically resonant half wavelength antenna ...... while taking up only a fraction of the normally required space!! Forget about shortened verticals and their need for radials to get your signal out ...... Enjoy the benefits and efficiency of my Stealth Antenna in roughly the same amount of space!

My Stealth antenna's feature CUSTOM MADE, HEAVY DUTY 1/8", rust free Brass "Swivel-SAFE" mounts to connect the coils to the center body (fully supporting the pull and weight of your antenna, and allowing the electrical connections to float stress free) ..... nothing new for us .... just good design right from the start!! Plus .... our sleek design has only TWO securely soldered electrical connection points ... right at the coils themselves! No worries about maintenance here!! Our light weight sleek center insulator was optimized specifically with the portable or back pack user in mind, keeping the weight and electrical connections to an absolute MINIMUM!! Setup and tear down couldn't be easier! Plus, our customer proven quality construction will allow you to truly enjoy
LONG TERM peace of mind!!


You won't need to go and puchase feedline either ....... WE INCLUDE IT!!
Our HIGH QUALITY Twin Lead Feedline provides top notch efficiency, super light portability, and a VERY STEALTHY INSTALLATION to help
keep prying eyes from noticing your antenna system!!




A long proven concept ..... This style of antenna is an effective alternative for SWL's, CB'ers, and Ham's looking for a limited space or portable answer! If SMALL SIZE ... or ... STEALTH & PORTABILITY , PLUS IMPROVED EFFICIENCY, is what you are looking for ...... THIS IS THE ANSWER you've been looking for!! Quick and simple indoor mounting can be a great work around for those who have restrictive covenants on outside antennas! It can also be easily deployed in portable situations, allowing you to enjoy your hobby from your hotel room while traveling on the road, or perhaps from a tent while out in the field?! Tips on selecting locations and unique mounting techniques to help you setup in unexpected ways, are all provided in my four pages of included instructions.

Set it up as a straight dipole / an "L" / Inverted "V" (with a small loop of rope) / Sloper / or even "any way it fits!!" No trimming of the antenna is required ..... and it collapses to a SMALL tangle free package for
quick transport!!

The included 20' of Top Brand durable foam core balanced twin lead feedline helps to MINIMIZE losses .... and MAXIMIZE your received signal and your transmit ERP! Lower losses means MORE SIGNAL .... IN & OUT!! Simply connect to the balanced inputs on your radio, tuner, binding post adapter, or balun. And don't forget, you can always solder a PL-259 on the end of the feed line and "go direct!!" (You don't solder?? Ask us to install one for you!!) Extra long feedline is also available for those high up mounting applications too ....... just ask!!



An Installed PL-259 Connector is AVAILABLE!
(Quality Silver Plated Body + Pin / Chrome Bezel / Teflon Insulator)


* The use of an antenna tuner for transmitting is highly recommended.
Actual efficiency on 80M may be reduced when compared to higher bands.
For everyone's safety, be SURE to locate your antenna as far as possible from power lines, humans or pets!
Antenna includes twenty feet of High Quality 300 Ohm Feed Line, with tinned ends.
Longer lengths are available by request, as is an installed PL-259 connector!!
Read below what a few of my Ebay customers have said about their antenna purchase!!

Auction Numbers are included .... so feel free to VERIFY these comments for yourself ....
Right at Ebay!!!


Praise : This is a magnificent antenna. Very clever & easy to mount.
Happy holidays!
(Auction #5734124334 / My Coax Fed Model)

Praise : well built antenna very low profile and the best part,,,
IT WORKS AS ADVERTISED!
(Auction #5718080092)

Praise : MORE THAN A SELLER, A FRIEND AND INVENTOR
(Auction #5708713811)

Praise : Looks like I'll finally get my HF rig on the air! Tnx
(Auction #3077245942)

Praise : excellent antenna; as advertised; arrived quickly and packaged great
(Auction #3078987424)

Praise : Prompt shipment and good interaction with seller about the product prior to sale
(Auction #3078009894)

Praise : Neat antenna, works well. Thanks!
(Auction #3078546563)

Praise : Excellent transaction. Professional-quality merchandise.
Very fast shipping.
(Auction #3075182890)

Praise : Good Transation .. + Excellent Item .........
+ .... Recommended ++++++++ Thanks
(Auction #3071318835)

Praise : Great seller! Answered question with a very detailed, honest response. Trust!
(Auction #3073843858)

Praise : The product was very well built, and the transaction was super fast !
(Auction #3070943876 / My COAX FED Model)

Praise : Excellent to work with. Product was high-quality. Would buy from again.
(Auction #3066474370)

Praise : terrific product! seller an asset to ebay in everyway.
(Auction #3065833937)

Praise : Excellant communication,well made product and reasonable price.Thanks again!
(Auction #3063927866)

Praise : fast delivery ex.product,highly reccomened.AAAAAAA+++++
will buy fromn again
(Auction #3059886672)

Praise : item arrived exactly as described, no surprises,quick shipping,
a great deal! A+
(Auction #3057407928)

Praise : Excellent comm. Extremely professional. Unique seller w/great products. AAA+++
(Auction #3044941850)

Praise : Very Fast Shipping! Excellent Antenna!! Thanks!!!
(Auction #3053313915)

Praise : WOW! Antenna is of finest quality! Lightning fast shipping!
EBAYS BEST!
(Auction #3050792021)

Praise : Nice antenna design, looking forward to trying it QRP from a mountain top!
(Auction #3021073710)

Praise : Quick ship....good comms, ant works well AAA++++
(Auction #3019832120)

Praise : Exactly as advertised. Very pleased. Great deal!
(Auction #3020547823)

Praise : Great Item. Works Like a Charm. And Very Portable and Adaptable to Frequency.
(Auction #3020547953)

Praise : Excellent Antenna, Great eBayer, A pleasure to deal with,
Highly recommended, AA
(Auction #3013122552)

Praise : Excellent to do business with, quality of antenna is fantastic, works great. A++
(Auction #3011133181)

Praise : Fast Service, very professional and good instructions included. GREAT EBAYer !!
(Auction #3007267118)

Praise : Quality product, fast ship. As good as it gets.
(Auction #1946338675)

Praise : Compact , quality antenna. prefect portable antenna
for my QRP rig.
(Auction #1393407137)

Praise : It was just as promised and I am very happy very fast.
(Auction #1947632911)

Praise : Extremely helpful seller. Fast shipping. All-around great person. A+++++
(Auction #1947633083)

Praise : great service; highly recommended; fast delivery; product as described
(Auction #1944085155)

Praise : AAAAAA****I WISH THAT ALL SELLORS WERE THIS PROFESSIONAL****GREAT TRANSACTION!!*
(Auction #1942213162)

Praise : Got it, Looks too easy.
You've got an excellent product!!!! AAA+++
(Auction #1944485269)

Praise : great person to do business with Rate him at the top A++A+AA+A+A+A+AA+A+A+A+
(Auction #802859737)

Praise : Fast ship, very nicely constructed piece. Scanning 80m with ant in hallway now!!
(Auction #1394259207)

Praise : Not just a seller, he takes time to answer all your questions! A++++++++++++++++
(Auction #1390207819)


An email comment from one of my customers

"your slinky antenna is everything u said it would be! I am having a BALL!!! Put in place in my attic on Sunday with the help of my son-in-law. Didn't talk on it till Monday. Have listened alot first, learning when to jump in. Am making plenty of contacts with good signal reports on 100watts. On 20 & 40 meters both. Just thought I'd let u know.
roger-n3i** Buford, Ga."