Copyright 2005-2010 -- ALL Rights Reserved
ALL Forms Of Duplication Expressly Prohibited


~~
A Simple / Effective Solution ~~
For Your QRP Antenna Connections
The IDEAL connection solution for the wire field antenna recomended by Elecraft for their KX1 as well as other QRP models!
Provides a DIRECT connection from ANY wire antenna, right to your rig's BNC connector!


!! REPEAT OF A PRIOR SELL OUT !!
ONLY A LIMITED QUANTITY AVAILABLE!!
(We've been sold out of these for a while now, but managed to find a SMALL quantity to offer on Ebay once again!!)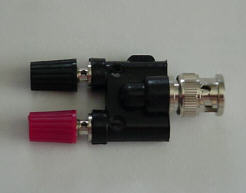 Brand New / With Gold Center Pin
A Safe / Secure method to hook any wire antenna right to the back of your QRP radio!!
Check my other auctions link for a great Portable HF / QRP / SWL Helical Dipole fed with Low Loss Twin Lead Feed Line!!
Portable radio operators, and QRP'ers especially, will appreciate this handy adapter! While many rigs provide you with a BNC connector for the antenna, and then go on to say how your rig will work with a random or tuned wire antenna ………
they ALL fail to provide you with the means to actually make that connection!!
With this simple adapter, you can change antennas on the fly, while being assured of a secure connection that won't stress the finals of your favorite QRP rig!! Want to run through a travel antenna tuner?? Use one of these to make your connection!!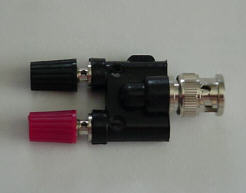 No permanent mounting is required, and you have the choice of using banana plugs or simply clamping the bare wire ends under the binding posts … for a fast … simple … and secure connection!!!



If you are into PORTABLE QRP ………
THIS IS THE CONNECTOR YOU HAVE BEEN LOOKING FOR!!!
I've used these for years now with my Elecraft K1, as well as my Yaesu FT-817, and Rock Mite QRPp rigs! I wouldn't even consider going on a trip without one … and usually take two!



If you think that you will EVER be in a situation where you may wish to toss out a couple pieces of wire …… and try your luck at making a few quick contacts ……… you won't find a more convenient or secure method of making your antenna connection than this!
~ How my Ebay customers feel about their purchase ~

Praise : quick shipment on a hard-to-obtain gadget that I really needed!
(Auction #5708751018)

Praise : Item just as described...fast ship...great product...A+++++++++
(Auction #3077813980)

Praise : excellent deal, professional service, prompt shipping. i am happy.
(Auction #3071448304)

Praise : Always a pleasure to deal with this seller. Essential QRP accessory. A++++
(Auction #3056115856)

Praise : Great seller, very trustworthy. Item better than descibed and fast delivery. A+!
(Auction #3055687201)