Copyright 2005-2010
All Rights Reserved
~~ International Shipping Available / Email For Shipping Cost~~
~~ SIMPLE But Very EFFECTIVE ~~
Ideal For Portable / Field / ARES-RACES
And Emergency Use

Long Proven In Field Performance
IT ACTUALLY INCREASES YOUR SIGNAL / ERP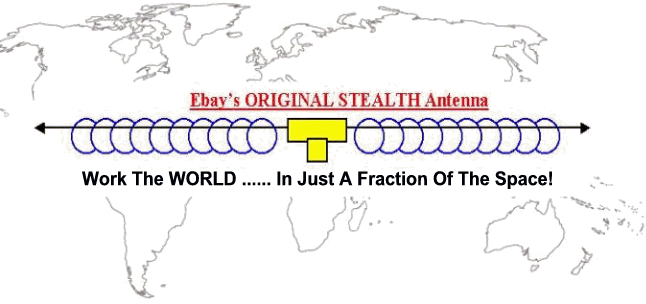 ~Designed for 2M but works on 70CM too~
Keep in mind, that 70cm is also the 3'rd harmonic of 2m .......
for those with Dual Band HT's

(Hand Crafted by an EXTRA CLASS Amateur Operator!)




Near Field Strength MINIMUM MEASURABLE improvements of AT LEAST 30% ... while On The Air Far Field signal strength reports show increases of around 3 S-units being typical!!
A HUGE increase in signal, without effort, inconvenience, or reduced battery life!!! You'll wish you had one of these on your HT years ago!!




It Provides the "tuned missing half" of your HT's rubber duck antenna
Providing RESONANT EFFICIENCY on the entire 2m Band!!!


You'll enjoy noticeable signal improvements on both Simplex and distant Repeater operations!!



Hand made in the USA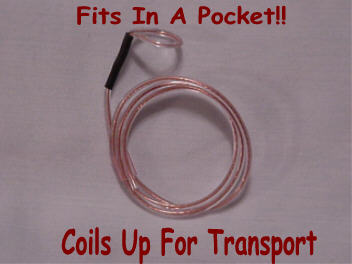 (1/2" Loop Fits Most Antenna's + BNC's / Custom Fitting @ No Charge)


One Handi-Tail owner commented: "this thing sure works. It almost doubled my FM range with 5 watts into 2 meters. It's so simple yet so effective I wish I'd thought of it. I use it on my FT-817, draped over the included tri-band rubber "suk" BNC antenna and I can now hit repeaters on all three bands that are 20+ miles away or more. You always hear of counterpoise wires for HF verticals, but never for an HT antenna. thanks for the great little gizmo ! N3K** Chris"

While Another Handi-Tail owner commented: "Once again, one of your products has come through for me. Unable to make contact with close neighbor on HT-simplex, I tried your counterpoise. It gave me the additional gain to make the contact on transmit and receive. Tnx again, Roger"

And yet another owner commented: "The handi-tail works GREAT. Can now hit repeaters that I couldn't before from inside my apartment."



Slips right onto the rubber duck antenna of ANY BRAND 2 Meter Band HT Radio!!
Check my other auctions link for some great Portable HF / QRP / SWL
Limited Space Helical Antenna's!!
A long proven concept that has been proven in the field over many years, this "counterpoise" makes a great addition for casual users, fringe area work, and those who are involved ARES or RACES emergency service operations!! Just barely making the repeater?? Try a Handi-Tail ... !!!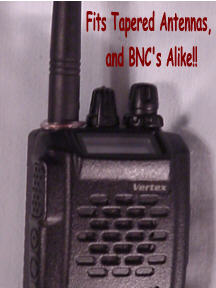 No permanent mounting is required, and the Handi-Tail can quickly be slipped on / off within seconds ...... and can be easily transported in a shirt or pants pocket! It's made for rough service, and it can't be broken or hurt by bending or rough use! We even include some basic instructions outlining HOW it works, along with tips on how to install the Handi-Tail on those smooth continuous taper Rubber Duck Antennas (Vertex VX-150 and similar with SMA connectors), as well as those that have an open BNC mount on the antenna base!!

YOU WILL TRULY BE AMAZED at how much difference such a simple accessory can make on your transmitted signal reports!! Typical reports on simplex signals have shown a measured increase of up to 3-S units over a standard rubber duck antenna without the counterpoise!




With the increased ERP, you may finally be able to turn down the power on your HT, while still enjoying reliable communications at LOWER POWER levels ......... allowing your BATTERIES to LAST LONGER too!!!




If you want to improve your HT's performance while keeping the portability of your flexible rubber duck ---- THIS is the ANSWER you have been looking for!! Those who have already installed a telescopic whip on their HT can also benefit from the Handi-Tail too!! Give one a try and see for yourself! You have nothing to lose, and we're SURE you will be very happy that you added it to your antenna accessories!!

Wondering if it really works?? Did you ever try running your mag mount antenna with its base on a wood fence or board instead of being on the metal of your car?? It doesn't work too well ..... just like an HT's duck antenna without a counterpoise!!! The car acts as the "missing half" for your magnet mount antenna .... and the Handi-Tail does the same for your HT!! Check for yourself the MANY unbiased opinions and recommendations offered by thousands of happy ham's all over the world ..... and see how MANY ARES / RACES groups even RECOMMEND the use of a counterpoise for improved reliability during emergency 2M communications!! You'll find this is a VERY POPULAR and EASY TO INSTALL accessory, that provides an Honest and Measurable power boost to your portable HT's signal!! And best of all, setup and tear down requires no tools, and literally takes only a few seconds!!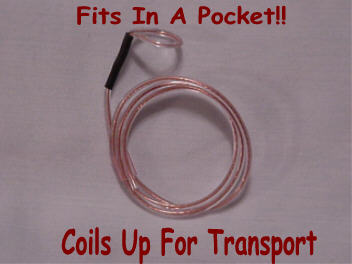 If you're looking for improved performance from your HT's rubber duck antenna .... but still want to enjoy extreme flexibility and LOW PROFILE that it has to offer ... then THIS is the accessory you have been looking for!

Similar boosters have been offered for more than four times the cost of a Handi-Tail, yet can not offer you better performance!!
Highly Flexible, fast and easy setup ... coils up for storage or transport in just a shirt pocket ... yet provides both an audible and measurable Signal Boost that a rubber duck alone could never provide at a grat price!!
A combination that's REALLY HARD TO BEAT!!
Read some of our Handi Tail
~ Customer Feedback ~



Praise : Mint Item! Really boosted RX signal! Fast Shipping!
Highly Recomended! AAAA++++
(Auction #5714721081)

Praise : recieved promptly works great..A+++++++
(Auction #3089730370)

Praise : Frustratingly simple, yet ridiculously effective ! Great Seller !!! A++ 5-by-5
(Auction #3085569134)

Praise : Product worked just as claimed! Made contact on simplex, where unable before.
(Auction #3082702281)

Praise : Wow. It works great! Fast shipping. A++++
(Auction #3080431766)

Praise : Good communication, good packing and
increased HT performance. I'm happy!
(Auction #3067732190)

Praise : exceptional product;just as described;
will buy from again;highly reccomend;AAA++
(Auction #3060524287)

Praise : The stinger works great. Can now get out farther on my HT.
A-PLUS service too!
(Auction #3059372757)

Praise : Just as described and prompt delivery.
Thanks from KD5MKQ
(Auction #3057409706)

Praise : Fast shipping, good communication, item as advertised, would buy from again.
(Auction #3059438793)

Praise : Great seller, item was exactly as advertised. Thank!! A++ seller
(Auction #3059413338)

Praise : AAA+++ great transaction
(Auction #3048237889)

Praise : Quick delivery, seems to work well.
I'm saticefied. A+++
(Auction #3049274340)



~~ Offer is for the Handi-Tail accessory ONLY!! ~~

Please request a custom sized loop if antenna base is
larger than 1/2" diameter .... No Charge!!